"JUMP START" real estate coaching seminar
Every week Kathy meets aspiring real estate agents as well as those who might be struggling in the very competitive world of real estate. Most of them have the aptitude, the attitude and the work-ethic to succeed, but many are looking for support, mentoring and words of encouragement from veteran practitioners.
Attain.Maintain.Sustain is a custom-designed program for individuals or small groups of real estate agents. Designed to give agents the personalized attention that they need to thrive in a difficult profession, Attain. Maintain. Sustain allows the attendees to gain knowledge and skills to move their business forward. Program attendees have access to a Certified Professional Coach and seasoned real estate broker who can answer questions and guide them as they build their real estate brand.
Kathy offers a variety of session styles to accommodate busy schedules. Contact us to design special weekday, weekend or weeknight sessions for your agents or organization. If you are an individual agent, we can enroll you in one of my scheduled seminars with other agents. (A class of 8 to 10 is preferred.)
Don't live in the Jackson, Mississippi area? Attain. Maintain. Sustain has virtual classroom options for you or your small group as well.

Contact Kathy for rates and for a customized coaching plan that fits your budget.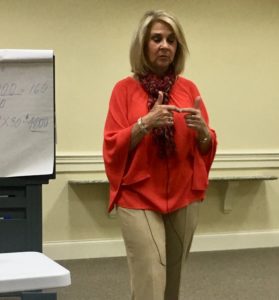 These sessions are designed as real estate coaching for the agent who is serious about making an investment in themselves to become more successful at the best career on the planet.